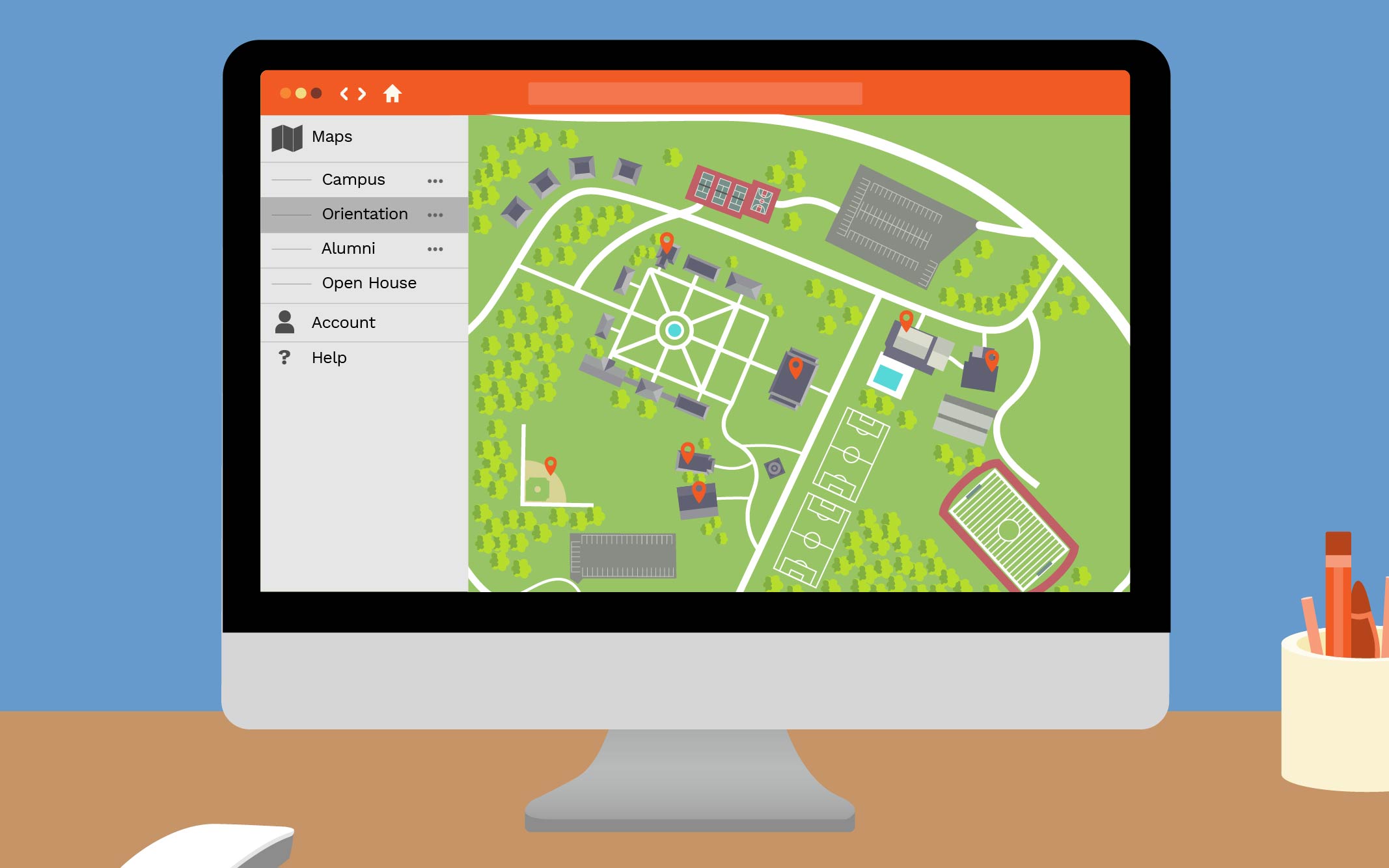 One of the great things about your Findful map is that you don't just get one "map", you have three individual marker sets — your main map and then two other sets of markers to use as needed. Needed for what, you ask? The possibilities are almost endless! Below you will discover some ideas to put those extra marker sets to use.
Campus Visits
When a prospective family is visiting your campus, a simplified version of your map may be helpful to guide them to the highlights or even just parking and admissions. Having multiple marker sets doesn't necessarily mean that you need to have multiple markers in each set — think of your audience and narrow your markers down to just what they need to know.
Open Houses
An open house may include student-guided tours, in which case your marker set, like for a campus visit, may just want to include the highlights. If your open house includes a self-guided tour, then a separate marker set for the tour will be very useful for your attendees. Try numbering the markers to give people a starting point and some direction on which buildings to go to in which order and to make sure they end up where you want them. Because the tour is self-guided, be sure to include information about buildings and programming that a guide would. Consider short videos to incorporate with the marker information to bring the tour to life.
Hint: Do you have buildings that are closed to visitors? Be sure to note that in the marker description so that your visitors aren't going where they're not supposed to!
Accepted Students Night/Day/Weekend
Whether you host accepted students for a day, an evening, or at different events over the course of a weekend, if you have a large campus, giving your visitors a way to immediately find where to go takes some of the burden off of the traditional way-finding and temporary signage that usually goes with such a large event. The combination of digital wayfinding and traditional signage will make sure that your visitors know exactly where to go and feel like you're taking care of them before they've even committed to becoming part of the family.
Orientation
What better way to orient your newcomers than with a digital map! Orientation can be overwhelming and orienteers trying to find their way around campus may not have confidence in the lay of the land quite yet. Putting a map in their hand in their phone is the perfect way to camouflage being lost or turned around. Bonus: no lost or misplaced paper maps floating around campus!
Hint: Pare down your markers to only include the important locations for orientation and if there are places people need to be, include the event title and time in that marker so everything is in one place.
Another Hint: Do you have orientation or weekend events for just parents? Consider a separate marker set just for them!
Special Events on Campus
Directing visitors to parking and specific buildings and entrances for special events can help make your event go smoothly by assisting with traffic flow. Communicating to your audience about the event specifics ahead of time via email or traditional mailed invitations is great, but give them something they can easily take with them on the day-of. Share your event map and let people know to download it beforehand so there is nothing holding them back from finding where they need to go when they arrive on campus.
Conferences on Campus
Occasionally, you might find yourself hosting a conference on campus. If you've been there, you know the work that goes into it! The signage alone is an exercise in getting to know your campus in a whole new way — looking through the eyes of people who have never been there before. (And a great exercise in making sure you know your left from right!) Using a marker set to make sure people are parking in the right lot(s) and entering the right buildings during the conference can help with traffic flow and reduce the amount of questions about directions directed at conference staff.
Capital Campaigns
Are you looking to highlight facility upgrades that need to be made over the course of your campaign? Use markers to share blueprints, plans, and progress photos of the various undertakings of your campaign.
Hint: Do you have a particularly large project to raise funds for that could use it's own map? Contact us and we can help you with that!
Reunion Weekend
Reunion weekend is fun but it is a lot of work! You may have different events for different class years at different times or locations throughout the weekend. You may have a new addition or facility or athletic field or other campus updates that you want your alumni to know about and see first-hand. Most people are there to see old friends and participate in the events and activities and eat the food and drink the drinks. Paper handouts are not going to last. Let your alumni know to download the reunion weekend version of your Findful map so they know what not to miss!
Hint: If you want to be extra helpful, include event times and dates with each marker for easy reference!
Commencement
Commencement brings a huge variety of people to campus — most of which are family members who have little to no prior experience with the campus. With the crowds that are sure to arrive, and a tight schedule to keep, clear communication about where to park, where students need to be (and at what time), where friends and family should be situated (and when), there is a lot to communicate! Weather is almost always a factor on commencement day and you can update your map as any changes occur so that your visitors are up to date. Does the venue need to change at the last minute? If your guests know to check the map for any last-minute updates, the day will go that much more smoothly.
Hint: Naming a marker "commencement ceremony here" and assigning it as a featured marker is a clear way of letting people know exactly where to be and to separate important locations from other markers that may be in the map.
A Fun or Unseen Side of Campus for Newcomers
So much of the messaging that you need to get out to prospective families or attendees is about the serious stuff. Once you get all of that out there, maybe it's time to have some fun! Lots of messaging is directed toward prospective parents. Now is a time to speak to your students. There are often so many little fun things and historical tidbits that just don't get mentioned or don't have a place in admissions materials. Do you have a statue of Sigmund Freud on campus because he visited there once and everyone asks about it? Do you have a library that Jerry Garcia visited? Or maybe there's a pond just over there and people always ask "what's that?" Is there a coffee house buried under the dining hall in the student center that new students should definitely check out? Or should they absolutely not miss the free movie screenings that happen in a certain lecture hall on Thursday nights? Use a marker set to give people a tour of what makes your community utterly unique.